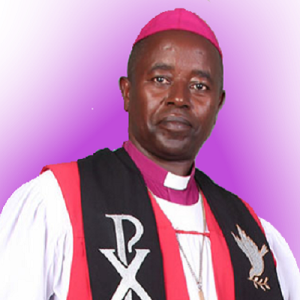 Bishop Joe W. Mwangi
ACK NAIROBI DIOCESE
Joel Waweru Mwangi was born on 4th October, 1959. He was enrolled to Muguru Primary School where he sat for his certificate of Primary Examination and qualified to proceed to Kangema High School. He joined the Church Army College (currently Carlile College) between 1980 and 1981 and obtained a Certificate which qualified him to be a Church Army Evangelist based at the St. James & All Martyrs Cathedral, Murang'a.
He expounded his training in Theological Education by Extension (TEE) which saw him promoted to the position of a Training College Officer at Church Army Africa and later a certificate in Religious Studies from Nairobi University.
He also joined East Africa School of Theology to undertake his first degree in Bachelor of Arts in Bible – Theology and later became the Administrative Officer at Church Army Africa. From 1992 to 1996, he became the Assistant General Secretary at Church Army Africa and also served as the acting General Secretary for two years awaiting the appointed General Secretary, Rev. Canon Stanley F. Dakin who was in the UK by then .He's travelled widely to represent the African institution abroad both as a leader and a main speaker in some conferences. These includes Church Army Officers Conference in Toronto Canada, Church Army Officers meeting in Northern Ireland, making presentations in various forums including Buckingham Palace (England) before Her Majesty the Queen and at Church Army World leaders conference in Bournemouth, England and at Church Army World leaders conference in Sydney, Australia. It was while serving the Lord at Church Army Africa that Joel was made a Deacon in 1993 and ordained as a Priest the next year at the All Saints Cathedral, the then Nairobi Diocese by the late Archbishop Manasses Kuria.
Joel attended various leadership courses and seminars in various institutions and forums such as Haggai Institute, Maui – Hawaii, Daystar University- Nairobi and Marc Europe- London -UK.
In 1995, while in Minnesota, USA, Joel served as a Part–time minister at St. Luke's Anglican Church Minnesota. Master of Arts in Theology at the Hallam Pastoral Institute Sheffield (University of Leeds UK). He was also licensed to work as a priest in the Diocese of Sheffield, UK in the same year. While undertaking his Masters, he was posted to St. Mary's Brammall Lane, Sheffield (UK) as an assistant minister and in his final year 1999, he was stationed at St. Silas Parish – Broomhall, Sheffield (UK) as the presiding minister.
Joel later came back to Kenya and operated as the Diocesan Youth Organizer (DYO). He was later appointed as the Vicar at ACK St. Polycarp Mlango Kubwa and ACK St. James Church Buruburu as the Vicar. While serving at St. James, He was Collated and installed Canon and inducted as the Archdeacon with the Cathedral Archdeaconry. The Youth at St. James also gave him the honorary award and appreciated him for the immense contribution in their lives as pastor, mentor, friend and dad; a gesture that proves the relevance of his ministry as a spiritual father and mentor to many young people at the church. Joel has literary grown together with St. James over the past ten years.
He serves as the Board of Director's Chairman, Thangira Umoja Secondary School Thika. Previously he's been elected as a PTA board member for three consecutive years at St. George's Secondary School. He also served as the Chairman House of Clergy and Provincial Synod representative in the Diocese of Nairobi. Joel possesses a mind for excellence that will not be satisfied by average accomplishments in life, his desire for in-depth knowledge and insight to enrich his relationship with God and ministry are the drive behind his actions and achievements. Joel is married Tabitha Muthoni Waweru and together blessed with two daughters namely Leah Wambui and Loise Wanjiku